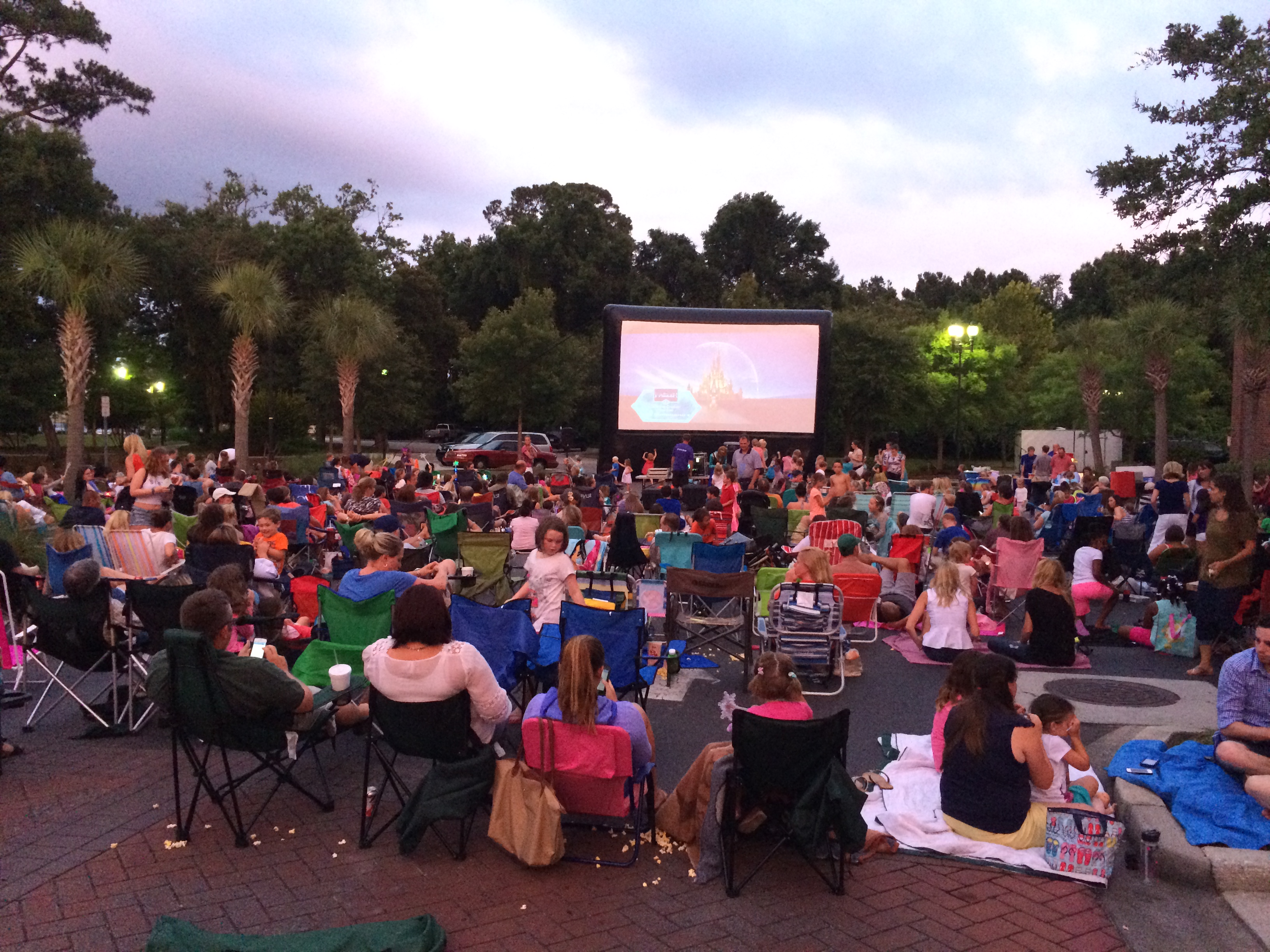 Outdoor movies at the local drive-in theater were once a celebrated tradition and now that tradition continues. Blue Sky Mobile Media offers a unique outdoor movie experience complete with a portable drive-in movie option. We create a drive-in, or lawn-seated movie experience in virtually any outdoor venue.  In addition to our Cinema Package described below we have a variety of inflatable movie screen options to choose from complete with state-of-the-art sound system options. Our different features allow you to customize the outdoor movie experience to fit the needs of your venue or clientele. Pre-movie activities are also available including gaming options, Karaoke and DJ services and concessions.  Our friendly staff of professionals can create a movie experience like no other.
Learn more about our movie packages below.
The Outdoor Movie Experience.
We provide unique, family-friendly outdoor movie experiences to shopping centers, festivals, clubs, schools, townships and more. Our turnkey services include professional staffing onsite throughout the event.
Movie
Arrival & Set Up 2 hours Before Movie

Installation & Set Up of 24' Movie Screen

Full Audio / Visual Package

One Professional Uniformed Movie Attendants

PA System / Announcements

Movie Licensing Fees Are Not Included

*Prices are valid within a 100 miles of Charlotte, NC
Movie & Music
Arrival & Set Up 4 hours Before Movie

Installation & Set Up of 24' Movie Screen

Full Audio / Visual Package

Two Professional Uniformed Movie Attendants

PA System / Announcements

Music & Gaming 2 Hours Before Movie

Movie Licensing Fees Are Not Included

*Prices are valid within a 100 miles of Charlotte, NC
Full Experience
Arrival & Set Up 6 hours Before Movie

Installation & Set Up of 24' Movie Screen

Full Audio / Visual Package

Three Professional Uniformed Movie Attendants

PA System / Announcements

Music & Gaming 2 Hours Before Movie

Blocking of Parking & Designated Movie Area

Full Concession Set up With Popcorn, Candy & Soft Drinks

Movie Licensing Fees Are Not Included

*Prices are valid within a 100 miles of Charlotte, NC